Welcome to Lovis Healing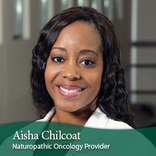 Dr. Aisha Chilcoat, ND, FABNO is a licensed, board-certified Naturopathic Doctor who earned her doctorate degree from the Southwest College of Naturopathic Medicine in 2011. While in medical school Dr. Chilcoat participated in several advanced Environmental Medicine trainings throughout North America. In addition, she completed a two-year CNME accredited naturopathic oncology residency at the Cancer Treatment Centers of America (CTCA) at Southwestern Regional Medical Center in Tulsa, OK.
During residency, she completed a series of oncology-focused rotations with staff naturopathic providers, medical oncologists, surgeons, radiation oncologists and other clinicians at the hospital. Dr. Chilcoat provided personalized naturopathic recommendations for nutrition and used several natural therapies such as vitamins and minerals, homeopathic remedies and herbal medicine while patients were undergoing radiation and chemotherapy. Following residency, Dr. Chilcoat developed a genuine passion for helping and loving patients diagnosed with cancer. She worked as a Naturopathic Oncology Provider at the CTCA Southeastern Regional Medical Center in Newnan, GA. Although her primary focus was treating those diagnosed with a hematological malignancy, breast, prostate and gastro-intestinal related cancer, Dr. Chilcoat worked diligently with patients in survivorship to support their lifestyle, nutrition and other health concerns.
Presently, Dr. Chilcoat works as an author, clinical researcher, motivational speaker and a certified Functional Medicine practitioner. Her practice is primarily focused on identifying the root cause of imbalance, disease and disruptions in health. Dr. Chilcoat accomplishes this by using the principles of Functional and Naturopathic Medicine, to take a detailed history related to the patient's present complaints. Her approach to medicine may be synonymous to that of a 'medical problem solver.' While using her expertise to identify mold toxicities, heavy metal burden, chemical sensitivity, fat-soluble toxins (which are buried in our fat tissue and make us fat!), chemical or electromagnetic frequency exposures she is able to create a personalized health program for you. Dr. Chilcoat also specializes in treating patients with cancer, chronic disease (diabetes, high blood pressure, high cholesterol), chronic pain, auto-immune disorders, digestive concerns, chemical sensitivities, allergies, fatigue, anxiety and depression to balance underlying causes and promote health.
Dr. Aisha Chilcoat is a board-certified, licensed Naturopathic Doctor in the states of Arizona and Kansas which allows her the ability to order lab testing, diagnose and treat disease, make treatment recommendations and order prescription medications when needed (Arizona only). Dr. Chilcoat is a member of the American Association of Naturopathic Physicians (AANP), the American Board of Naturopathic Oncology, the Society of Integrative Oncology (SIO) and the Institute of Functional Medicine (IFM).
Undergraduate education:
Bachelor of Arts in Natural Sciences, The Johns Hopkins University, Baltimore, MD
Graduate education:
Doctorate of Naturopathic Medicine, Southwest College of Naturopathic Medicine, Tempe, AZ
Master of Jurisprudence in Health Law, Widener University School of Law, Wilmington, DE
Post-Doctoral education:
Institute of Functional Medicine Certified Practitioner, IFMCP
UNC-Chapel Hill Post-Doctoral Complementary and Alternative Medicine (CAM) Research Fellow
Fellow of the American Board of Naturopathic Medicine, FABNO
Council on Naturopathic Medical Education (CNME) accredited two-year residency at the Cancer Treatment Centers of America- Southwestern, Tulsa, OK